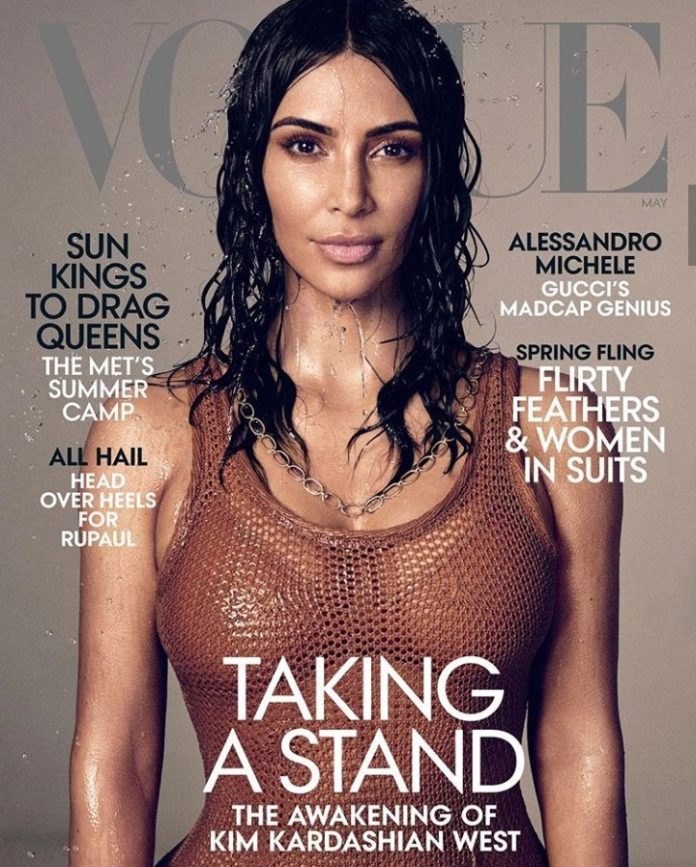 #goosebumps! Kim Kardashian West made her first solo US cover of Vogue Magazine.
She's beyond thrilled at this great achievement as she calls it a dream come true. The TV reality star recounted how she admired and longed to be featured alone on the cover page of the illustrious brand. Although, according to her, people thought she wasn't being realistic and perhaps a far cry from reality. Today, she's at a loss for words as her so long awaited dream comes true
She thanked everyone including Editor in chief of Vogue magazine Anna Wintour for her support, the glam team, Jonathan vameper and her super husband Kanye West, for believing in her dream making it a reality.
Wondering why Vogue magazine is second to none in the fashion industry:
Established in the late 1800s, Vogue has such an illustrious and colourful history. it is in fact an institution in the world of fashion.
Condé Montrose Nast, the founder of Condé Nast Publications, bought Vogue in 1909 and transformed it into a women's fashion magazine focused on beauty, composure, and etiquette. Vogue soon became known for its distinctive photographs and high editorial quality.
Both the magazine and it's Editor-in-Chief, Anna Wintour, have an incredible amount of power in the world of fashion and fashion design, and are said to be able to make or break a designer (ever watched The Devil Wears Prada?). Anna Wintour in particular has played an extremely significant role in the evolution of Vogue around the globe in the last 30 years.
This level of influence mean that Vogue has been in a position to explore some powerful partnerships in the past (Google Glass 2013). It has also ventured into economics (features and events after the Great Recession), and explored political and social issues in its features and editorials.
The magazine has continually been able to adapt to an evolving world. Examples include articles about sexuality during the height of feminism in the 1960s, the creation of Teen Vogue, the Vogue channel (via its website), books, and Voguepedia, which chronicles the history of fashion and more since the late 1980s.
Vogue publishes approximately 20 editions around the world, which means that it read by women and men from diverse backgrounds around the world, making it a truly global brand and a global force.