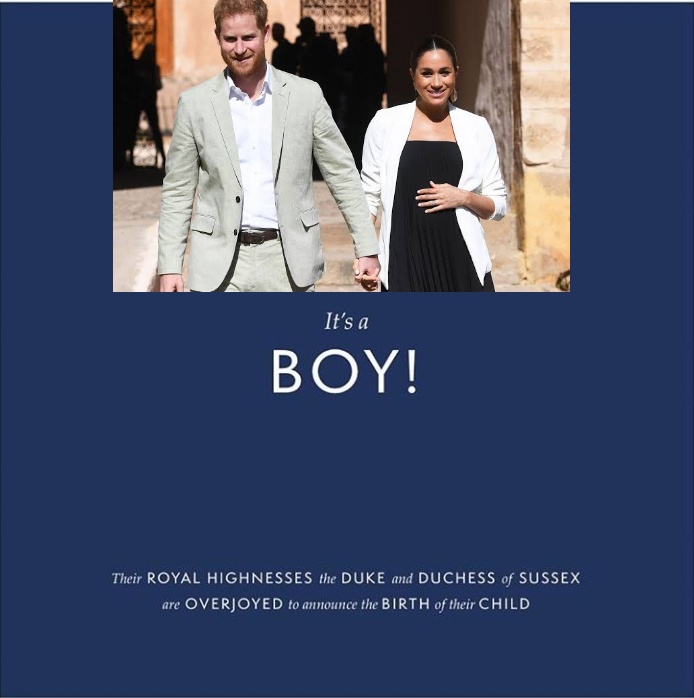 #goosebumps! Their Royal highnesses, The Duke and Duchess of Sussex welcome their first baby, and it's a BOY!The baby arrived at the early hours of May 6th.
The news was shared on the official Instagram account of the couple @Sussexroyal. "We are pleased to announce that their Royal highnesses the Duke and Duchess of Sussex welcomed their firstborn child in the early hours of May 6th. Their Royal highnesses'son weighs 7lb.3oz
The Duchess and baby are both healthy and well, and couple thank members of the public for their shared excitement and support during this special time in their lives." They Sussex shared.
Their highnesses' firstborn son shares the same month with their wedding day (May 19th), which makes MAY a double barrel celebration month (Marriage Anniversary and son's birthday) for the royal family.
Duchess Meghan has always been on the spotlight since marrying the prince to pregnancy. And everyone has immensely anticipated the birth of her firstborn child.
It sounded like another "savior" was going to be born as the expectations and wait apparently kept the entire world at almost a halt position.
Everyone is glad at the hearing of the greatest news of all time of the royal family and they all sent in their good will messages.
The royal son's name is not disclosed yet 
More details will be shared in the forthcoming days