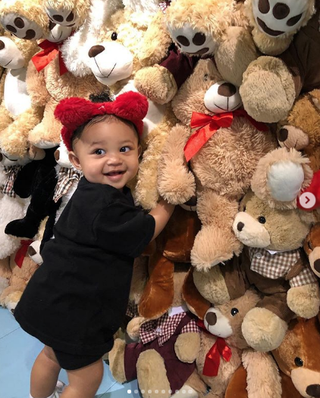 #goosebumps! Today is Stormi's birthday. And trust me, Baby Stormi has had a remarkable birthday ever. Stormi's birthday prep started a couple weeks ago with series of adventurous vacations on islands with her mum, Kylie Jenner sharing beautiful pictures from their trips.
Today, Kylie took to instagram sharing beautiful pictures of Stormi you never thought existed with caption, "how did i get so lucky to have such a sweet, smart, happy baby. i just couldn't have dreamt you up, storm. i wish you could stay this little forever and i could protect that contagious smile and laugh of yours. I know you won't remember much about the first year of your life but i pray that you'll never forget to keep sharing your joy and laughter with the world. my love grows for you a thousand miles a minute. every day with you is the best day of my life. happy birthday to my angel on earth. 🎈"
Stormi had her both parents, Kylie Jenner and Travis Scott by her side as she marked her one year birthday.