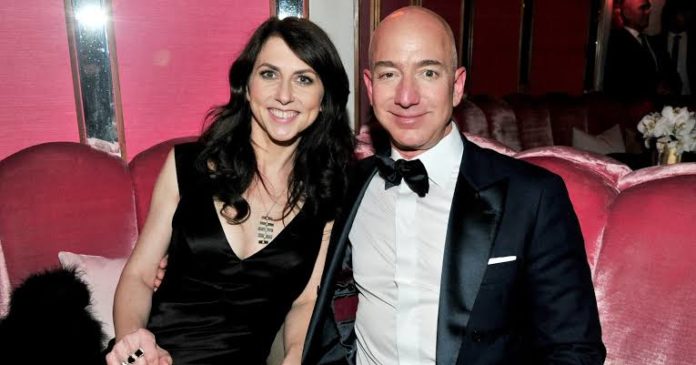 #goosebumps! Since public announcement of the divorce of Jeff Bezos and his wife Mackenzie was made, observers have stuck around to know what becomes the fate of Amazon.
Jeff Bezos, founder and CEO of Amazon has decided to transfer about 4% of his Amazon stock to his ex-wife, which would most likely be in July . Those shares are worth more than $35 billion making her the 3rd richest woman in the world, following L'Oréal's Francoise Bettencourt Meyers, who is worth an estimated $52.9 billion, and Walmart's Alice Walton, who is worth $45 billion.
While still pending, the Bezos divorce settlement will likely be the largest in world history. Jeff admits in a statement that, "MacKenzie's abilities have been on full display. She has been an extraordinary partner, ally, and mother." He tweeted.
— Jeff Bezos (@JeffBezos) April 4, 2019
However, Jeff Bezos still remains world's richest man with a net worth above $110 billion. And Jeff Bezos will continue to exercise voting control over MacKenzie's shares, unless she sells them on the open market or gives them to qualifying nonprofits.
If MacKenzie transfers shares, the recipient of the stock must sign a similar agreement granting Jeff Bezos voting control, according to a SEC filing that outlined the transfer of shares. 
MacKenzie made her own tweet in regard of the share transfer, saying, "Grateful to have finished the process of dissolving my marriage with Jeff from each other. … Happy to be giving him all my interests in the Washington Post and Blue Origin, and 75% of our Amazon stock plus voting control of my shares to support his continued contributions with the teams of these incredible companies."
— MacKenzie Bezos (@mackenziebezos) April 4, 2019
The couple are in the process of finalizing their divorce
ALSO READ: Jeff Bezos' Fling with Lauren Sanchez Ended His Marriage To Mackenzie