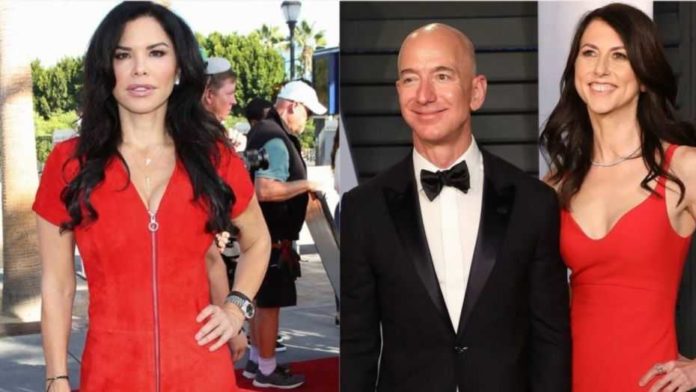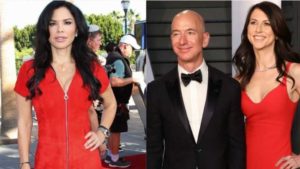 Few hours after Jeff Bezos' divorce was the cheating photo that suggested ended his marriage. #goosebump!
Amazon's CEO, Jeff Bezos, 54, has reportedly been dating new girlfriend Lauren Sanchez, 49, for four months. This is believed to be the reason behind his divorce of his wife, Mackenzie after 25 years of marriage.
According to page Six, Jeff Bezos was secretly dating Sanchez, a former TV anchor and wife of Whitesell, powerhouse Hollywood agent.
A exclusive source told Page Six "Patrick and Lauren have socialized with Jeff Bezos and his wife for a few years, because both (now former) couples have houses in Seattle.
"Then Lauren was hired to work on one of Bezos' projects, 'Blue Origin', a space launch company, as a helicopter pilot. She has been shooting aerial shots for Bezos.
"Patrick and Lauren Sanchez have been separated for a while. Their marriage has been off and on for a while, and they tried hard to fix things, but in the fall they officially separated. She had told Patrick that she has been recently seeing Jeff Bezos."
However, friends of Amazon CEO were shocked and surprised at the hearing of the news of the alleged pair.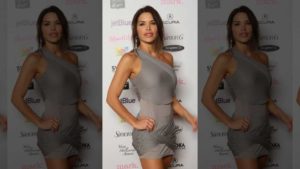 A source close to the former "Good Day LA" co-host told Fox News exclusively, that based on Lauren's personality, she would never put herself, her family or anyone else's family in Jeopardy for a fling.
"This whole thing came as a huge shock for many of us who knew Lauren," a source close to the former "Good Day LA" co-host told Fox News exclusively. She was always the smartest person in the room and relished in her opportunities to showcase her many talents to everyone."
Sanchez was the first host of "So You Think You Can Dance" in 2005, and worked as an entertainment reporter and correspondent for "Extra" from 2011 to 2017, however despite the shocking reports surrounding her relationship with the brown box boss, those close to her have a hard time believing she is the blame for Bezos' split from his wife as suggested on the cover of the National Enquirer – and say that she regularly exuded a beaming personality that was infectious to anyone she encountered.
"I don't think she would ever put herself, her family or anyone else's family in jeopardy for a fling — she always put her kids before anything else," the source maintained. "Regardless of what did or didn't happen, Lauren is a catch for anyone and her attitude and personality permeated the room."
Sanchez and Whitesell married in 2005, but have yet to formally file for divorce. They share two young children, and Sanchez also has a teenage son from her first marriage to former NFL tight end Tony Gonzalez.