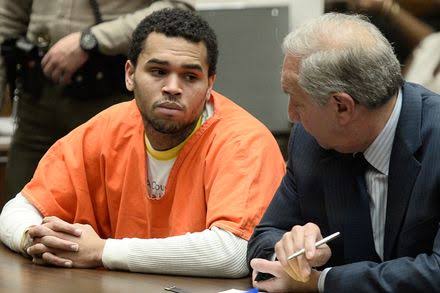 #goosebumps! Popular singer, Chris Brown, has been released from police custody. And no charges have been filed against him. However investigation is still ongoing.
The R&B entertainer, Chris Brown, along others who were not identified were arrested on Monday for questioning following an accusation of aggravated rape and possible drug infractions.
French News Media affirmed that an investigation had been opened after a woman filed a complaint with the Paris police, accusing him of raping her at his hotel last week after they met at a nightclub in the capital.
According to another source, the woman told the police that she along other women were invited to the hotel but then found herself alone in one of the hotel's rooms, where she said Mr. Brown raped her. She also accused a friend of the singer and his bodyguard of raping her.
Chris Brown's lawyer in Paris, Raphael Chiche, confirmed that his client along other unidentified men had been released but did not comment further on the allegations against him.
After his release, Chris Brown posted on his Instagram page. He wrote, "For my daughter and my family this is so disrespectful and is against my character and morals," amongst other things to prove that he was wrongly accused.
Chris has been involved in a series of Violence over the past few years 
—From assaults on women:
In 2017, a woman sued him, saying he held her against her will at his Los Angeles house last year while a friend of his raped her. 
In 2009, he pleaded guilty to one count of felony assault on his girlfriend at the time, the singer Rihanna.
—To others :
He was arrested in 2016 on a charge of assault with a deadly weapon after a standoff at his home.
In July, he was arrested in connection with a nightclub dispute from April 2017, when he was accused of punching a photographer in Tampa, Fla.
However, Despite his legal troubles, Chris Brown has remained popular with an ardent fan base.
Featured image by Rolling Stones