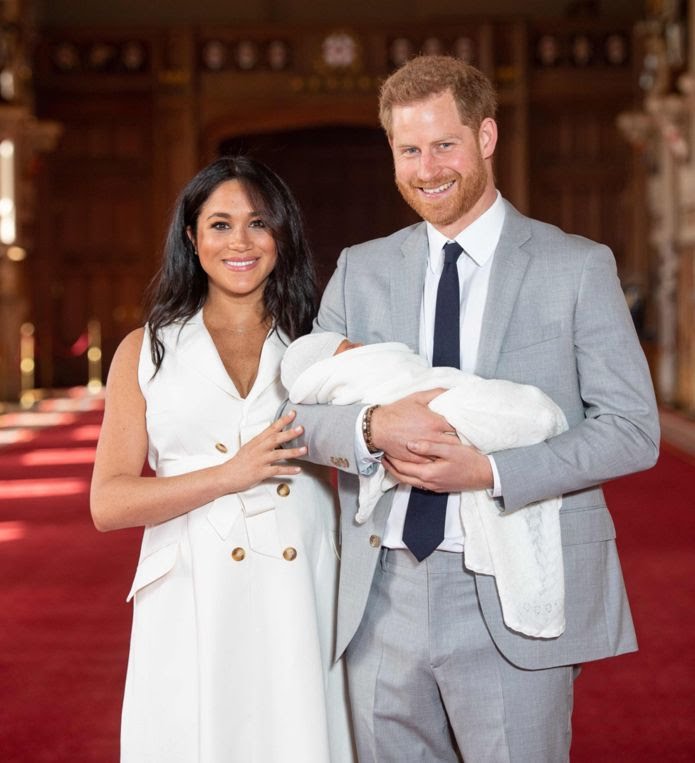 #goosebumps! The Duke and Duchess of Sussex now has a name for their firstborn royal son, his name is master Archie Harrison Mountbatten-Windsor
The announcement came after the Queen and Duke of Edinburgh met their eighth and newest great-grandchild for the first time at Windsor Castle. Also, it is part of the tradition of the royal house to pass names of the royal children before the Queen as a sign of respect prior to the public announcement.
The Duke and Duchess of Sussex  didn't dim it fit to append the prefix (Prince) to their first son's name to indicate royalty.
As the first born son of a duke, Archie could have become Earl of Dumbarton – one of Harry's subsidiary titles – or have been Lord Archie Mountbatten-Windsor, but instead he will simply be Master Archie Mountbatten-Windsor.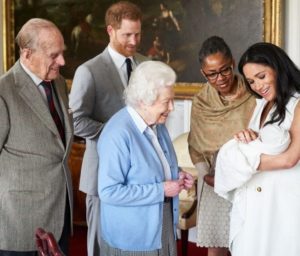 BBC royal correspondent Jonny Dymond said it was a "strong indication that they don't want to bring him up as a formal 'royal'".
Meghan has already started experiencing motherhood, she said: "He has the sweetest temperament, he's really calm. He's been the dream."
She added: "It's magic, it's pretty amazing. I have the two best guys in the world so I'm really happy."
Prince Harry is also experiencing fatherhood for the first time, and here's what he has to say: "It's great. Parenting is amazing.
"It's only been two and a half days, three days, but we're just so thrilled to have our own little bundle of joy." "Everyone says that babies change so much over two weeks.
"We're basically monitoring how the changing process happens over this next month really. But his looks are changing every single day, so who knows."
The couple earlier promised to get involved in raising their kids together, we assume they are already living up to their promise.