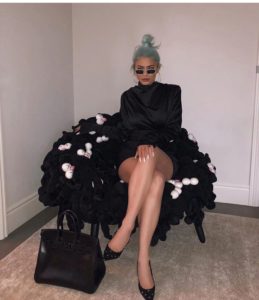 Self-made Billionaire, Kylie Jenner shared a photo of her with the caption "MOOD ALL 2019" on her Instagram page
She was all elegantly dressed in a BLACK  mini long-sleeved turtle dress looking all sexy, paired with a BLACK  pointed toe heels shoes littered with a few white spots, and an exquisitely BLACK  looking bag to match with, wearing a blonde hair color and a BLACK pair of glasses.
And gorgeously sitting in a BLACK new bubble-like chair well designed with few white balls with fur-like skin posing in style to showcase her legs.
What a #goosebump! Black Black Black….is Jenner expecting an all Black year?
Meanwhile, Stormi also rocked off her new chair. According to Kylie, Daddy dropped off the new chair just for Stormi.
And so you know, Stormi didn't relent in enjoying herself rocking the new chair with her small purse passed to her by her mum.
Watch the video below to see how Stormi rocked it… What a #goosebump