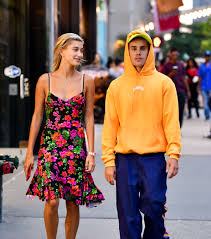 While Justin Bieber and Hailey Baldwin got secretly wedded last year, little did we know that it was only a court marriage. And now, the newlyweds are about to wed again, but this time in a religious way.
#goosebumps! The wedding is said to be a lavished and elaborate one with a list of A-list in attendance. TMZ said.
The likes of Kylie Jenner and Travis Scott have already received their special invite. But TMZ says it's not the first time they've received a save the date email for the wedding, adding that, this is about the third time. And, perhaps the last.
The lastest scheduled date for the wedding is 28th of February, which happens to coincide with Justin's birthday, giving us the reason to believe it's going to be the last date, as Justin Bieber really wants to get married at 25.
Meanwhile, Kylie Jenner and Travis Scott are said to be very good friends of Justin. Beyond that, they are clients of him as they have been tattooed severally by the popular music artist.
Let's keep our fingers crossed as we look forward to the couple's big day.