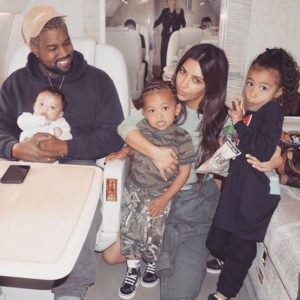 #goosebumps! Yes! Kim Kardashian and Kanye West are expecting their fourth child, and it's a boy.
Kim disclosed this during her appearance at the Andy Cohen's Watch What Happens Live last night where she said, yes, the reports are true.
Reports have been flooding all around before now, that the couple were expecting their fourth child but weren't sure until Kim's confirmation.
She said that she may have also contributed to the speculations when she let the cat out under some influence of alcohol.
However, it's no longer a secret. Kim Kardashian and Kanye West fourth child is to be born via surrogate. Although she wasn't exact about the date of birth of their child, she said it was anytime soon.
This is going to be her second child to be born via surrogacy out of four children. After difficult births with North and Saint, Kardashian was advised by doctors not to have any more natural pregnancies because it could be life-threatening for her since she suffered from placenta accreta during the deliveries of her first two babies. 
And the fourth child's  name is yet to be disclosed. Anyways, the Kardashians grand children's names are never one of those popular names. With West children's spectacular names such as Saint, North, Chicago, and perhaps, the fourth, "Texas" I guess 😂😂.
Was their #4 child going to be their last child or maybe not? Kim spoke to ELLE last year about how she was torn about baby #4. "I dunno," she said then with a sigh. "My home and my heart feel really full right now, in the best way." She made it clear that the couple's fourth child would be their last. "I don't think I could handle more than that," she said. "My time is spread really thin. And I think it's important that in all couples, the mom gives the husband as much attention as the kids."
However, Happy birthday to Chicago west who was born on January 15th, 2018.
Quickly let us in on what you think Kim Kardashian and Kanye West fourth child's name is in the comments below.