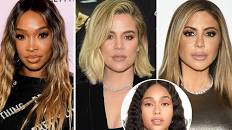 we have been dying in wait for Jordyn Woods to speak up concerning the alleged cheating scandal involving her and Kylie's boyfriend Tristan, and yes, she finally spoke up.
#goosebumps! Jordyn caused an uproar when she went on Red Table Talk to give her side of the Khloé Kardashian and Tristan Thompson cheating scandal. 
The Kardashians and their friends have gone on rampage against Jordyn. A source told US weekly that part of the reasons was that the interview didn't sit properly with the Kardashians as Jordyn appeared to be lying about apologizing to the Khloe for what she did.
"She still hasn't," the source said. "This doesn't count as an apology."
Khloe, however, took to twitter calling Jordyn a liar and the reason her family broke up.
She tweeted, "Why are you lying @jordynwoods ?? If you're going to try and save yourself by going public, INSTEAD OF CALLING ME PRIVATELY TO APOLOGIZE FIRST, at least be HONEST about your story. BTW, You ARE the reason my family broke up!"
But Jordyn said that wasn't the case. She said she's reached out to both Kylie Jenner and Khloé to talk things out.
"I did as much apologizing as I could do over the phone, over the text. And until I get the opportunity to talk face-to-face, could she really feel, you know, what I was saying? But I reached out and the opportunity is there," she said.
Now, we are almost confused as to whom to believe between Khloe and Jordyn in this situation, the whole thing seems to be a bit dramatic at the moment. Well, we'll just keep our fingers crossed for now.