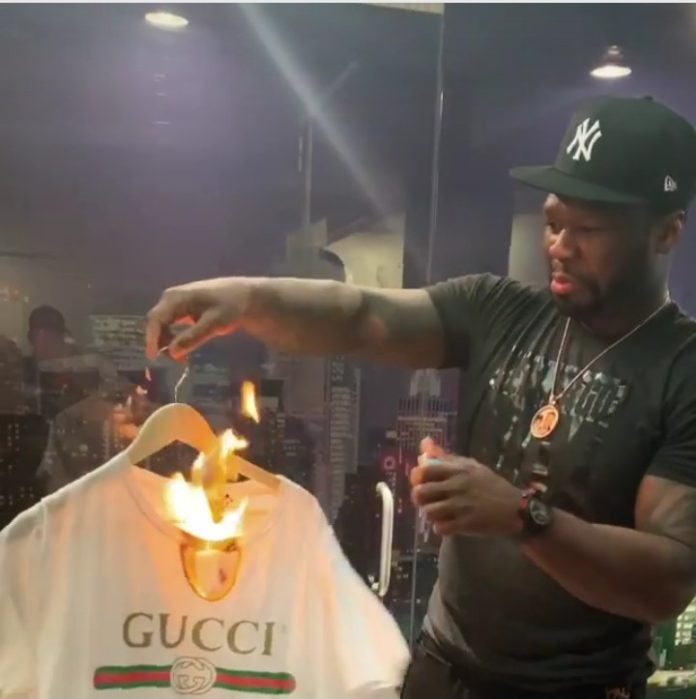 #goosebumps! 50 cent has joined the likes of T.I ,Soulja Boy and many more to withdraw his support for the highly esteemed Gucci following the blackface mask jumper controversy. He uploaded a video of himself burning up his Gucci shirt with a caption: "I gotta get rid of all the Gucci I have at home. I'm not supporting their brand anymore." He wrote.
He added, "i'm giving all mine to the homeless."
The Gucci backlash started when Gucci released their newest design of the $890 (£688) "balaclava jumper" earlier this month on social media . It was a white imagery wearing the Gucci jumper with her face halfway masked, cut-out at the mouth and and lips painted red.
The controversies arose from the fact that this month —February 1 to 28 is significant to the black race; it is a time to celebrate the African -American history which begin as a way for remembering important people and events in the history of the African diaspora. It's called Black History Month.
Why then is the blackface offensive?
Blackface dates back around 200 years and commonly refers to when someone – typically with white skin – paints their face darker to resemble a black person.
Blackface in the early 19th Century was a practice in which black people were mocked for the entertainment of white people, promoting negative stereotypes.
Dr Kehinde Andrews, an expert from Birmingham City University, explained blackface as being "very much about the fear of black people and the laughing at black people".
"It is a really longstanding issue and negatively racial across Europe," he told BBC Newsround.
"You see it from Shakespearean times onwards – this figure of white people 'blacking up'. It's either seen as a devil or a danger – or as a way to take the mickey out of people."
However, the Italian fashion brand deeply apologized and withdrew their jumpers from the stores. They took to twitter expressing how sorry they were to have released something that suggested racism.
Gucci deeply apologizes for the offense caused by the wool balaclava jumper.
We consider diversity to be a fundamental value to be fully upheld, respected, and at the forefront of every decision we make.
Full statement below. pic.twitter.com/P2iXL9uOhs

— gucci (@gucci) February 7, 2019