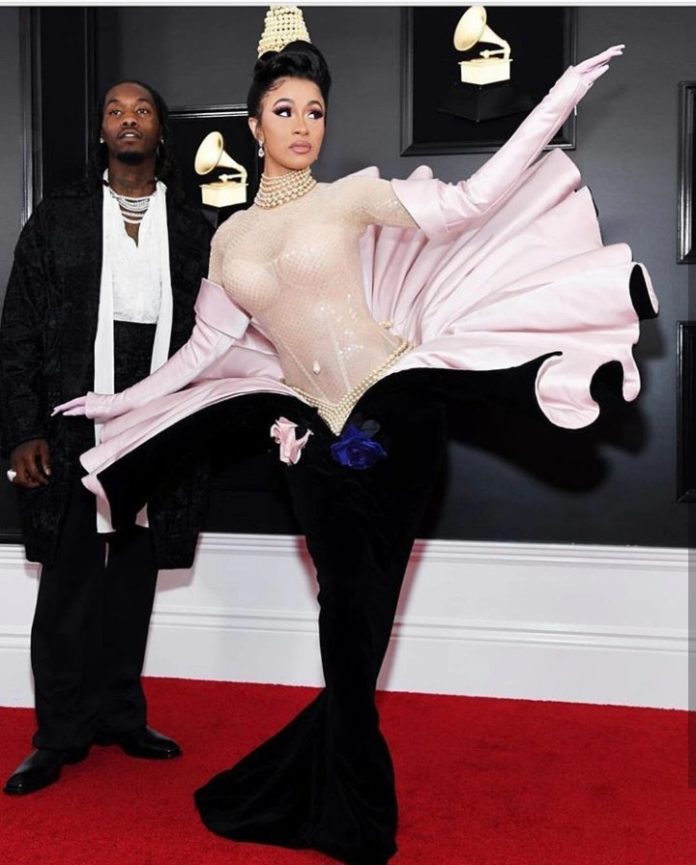 Guess who just won best rap album "invasion of privacy"— Cardi B becomes the first solo woman artist to win the Grammy in the category.
It was a big feat for mother of one as she almost couldn't contain the excitement. She appeared clearly emotional holding tight to her husband offset's hand and whispered at some point, "I can't breathe", "Maybe I need to start smoking weed", she added jokingly.
In her acceptance speech, she thanked her daughter Kulture, explaining that her pregnancy forced her to get her album and videos done before her baby bump started showing.
She also thanked all the artists that took their time and did verses for her album. And, finally thanked her husband. She said, "you, husband, thank you."
Cardi B made an amazing entrance to the red carpet. With a ravishing outfit that made her look like the "fish girl" in the movie title "Splash" of the 80s.
Her fans are appreciative of her looks, dress and achievement. And the likes of popular Serena Williams are dying to be like her when they grow up. Lol😂 

Can you recall the fish girl movie, Splash. Yes or No?