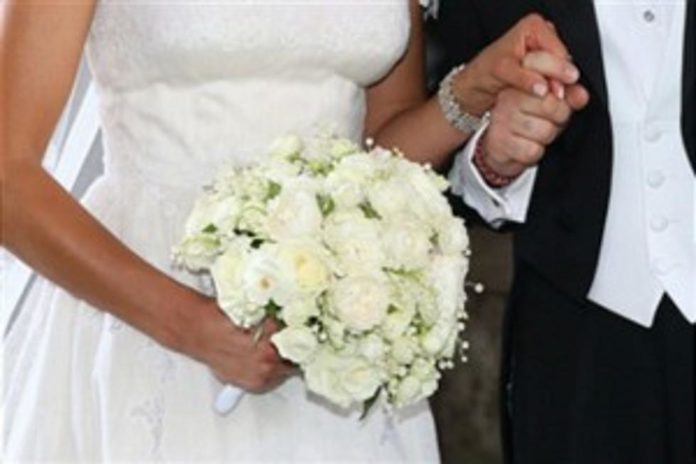 Every wedding party is surely demanding. The bride-to-be expects to wear the best wedding dress ever since it's her day and perhaps once in a lifetime event.  Her bridesmaids too would complement her stunning outfit with their own beautiful dresses.
#goosebumps! And Although most bridesmaids expect to foot their own bill personally or by request, some guests were in for a bit of a shock when they saw a "bill" on their invitations to "secure a place" in a wedding. 
Are we actually going to pay to attend a wedding?
Well, this was the case of an anonymous woman who received an invite from her would be sister in-law to pay a bill in order to secure a place in the wedding.
The bride-to-be announced that their wedding would be a weekend-long affair a few hours away from where they lived — which of course meant spending a few nights away from home.
Hence visitors should pay for their accommodations as they were going to be away for a couple days 
However, the woman and her husband were shocked to open the invitation to find next to the RSVP line were banking details for guests to send £180 ($233) to secure their place. 
The anonymous woman who was shocked over the invite decided to share it on the internet to get the public's opinion.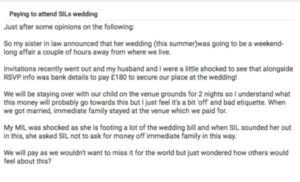 She wrote, "We will be staying over with our child on the venue grounds for 2 nights so I understand what this money will probably go towards this but I just feel it's a bit 'off' and bad etiquette."
She also added that when she and her husband got married, they paid for guest accommodations.
Well, this user totally agreed:
"I think for 2 nights accommodation and presumably some meals at £180 for 2 adults and one child is a total bargain. If you don't want to pay this then perhaps you can look for cheaper accommodation nearby — if you can find it. 
Whilst you may have paid for others accommodation at your own wedding this is not something everyone can afford and I think you are assuming too much to expect it."
Others said it was an extremely rude way to ask
"I think it's rude. Every wedding I have been invited to away have been given a list of suggestions of places to stay to suit a variety of budget. And what meals are these included for? Hopefully not the wedding reception which the bride/groom(or in this case MIl) should be paying for. I wouldn't expect to receive an invitation with a bill attached for accommodation and meals".
Others even advised her to skip the wedding all together:
"I think it's incredibly bad manners. It sounds like a business arrangement rather than a wedding. If I was you, I wouldn't go, out of principle as much as anything else."
Well, we are accepting more opinions from the internet over this particular issue. Please let's have your opinion. Thanks 
featured image courtesy : B98.5