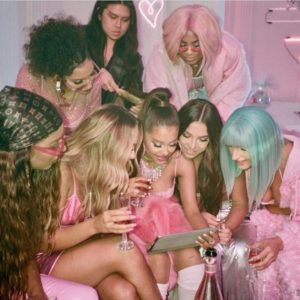 Ariana Grande has been building up buzz and excitement all over Instagram for her latest single, 7 rings💍, which will be released on January 18. #goosebumps!
The stirring up videos and pictures of her alongside 7 seven friends wearing and showcasing their engagement rings gives a heads-up to what the new track could be about.
There are speculations that Grande's new song would bother on her recently concluded relationship with her ex-boyfriend Pete Davidson.
Recall that last year, in October, the amiable singer reportedly gave Pete Davidson back her $100k diamond engagement ring (a custom design which took weeks to design), after they broke up.TMZ sources said.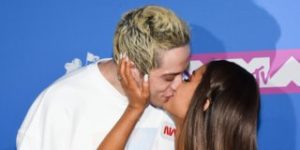 He was her biggest crush of all time "We never exchanged numbers or anything, we weren't even friends for the longest time, but I had the biggest crush in the whole world on him the whole time — like forever. Like, my friends used to make fun of me for it," Grande told Jimmy Fallon.
And 6 months after their engagement was their breakup.
We are made to believe that Ariana's latest "Thank you, Next" song was an offshoot from the breakup, presumably about her exes.
However, her new "7 rings" song isn't going to be any different. This was confirmed on Twitter back in December, when one fan asked outright what 7 Rings is about, and Ariana kindly obliged by sharing on the details. She wrote, "well …………. 'twas a pretty rough day in nyc. my friends took me to tiffany's. we had too much champagne. i bought us all rings.  it was very insane and funny. & on the way back to the stu njomza was like 'bitch, this gotta be a song lol'. so we wrote it that afternoon."
That perhaps cleared up the air a bit, the song, "7 rings" was birthed from pain & broken heart. She had lost her forever crush, Pete Davidson, and it was time for her Next crush. Guess who, it's her 7 friends.